Hey everyone! It's Melissa from Design Eat Repeat and I'm excited to be over here sharing a mash-up of one of Cyndy's favorite cake recipes with one of my springtime printables. If you're anything like me, there is no discriminating when it comes to cake and it's safe to say that all flavors are my cup of tea. Today, I'm sharing a recipe for these jumbo red velvet cupcakes.
So when Cyndy sent me the link to her father in law's red velvet recipe that she posted a few years back, my eyes bugged out and I knew I had to try it. Being a Midwest gal, I'm always up for trying a sweet Southern recipe, and this one sounded like it would foot the bill.
But being a DIY & printable guru, I wasn't just going to make a average-joe cupcake! So I sat down at my computer & went to town creating a few printables to add along with it. Besides, all cupcakes need cute toppers, right? Right.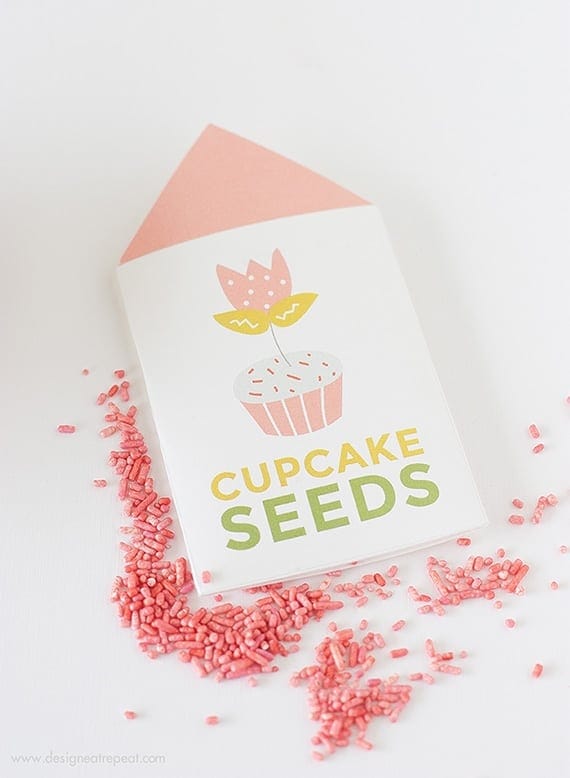 I designed the "Cupcake Seed" package to hold sprinkles, the tulip printable, and toothpick. You can put one at each place-setting for a party or just hand them out to friends for fun. But the intention is that the recipient now has all the tools to "grow" a cupcake from drab to fab.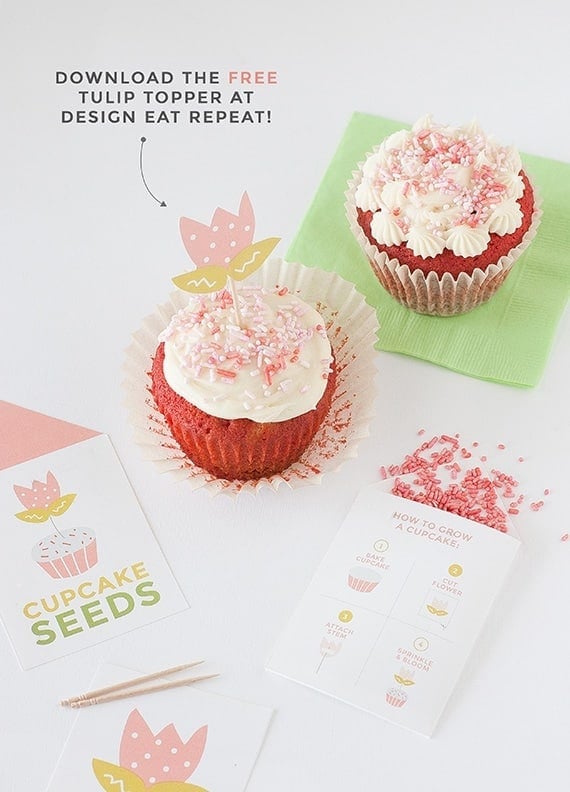 Because I was in a illustration mood, I added some visual instructions to the back. Decorating doesn't have to take tons of time, and this project is here to prove it!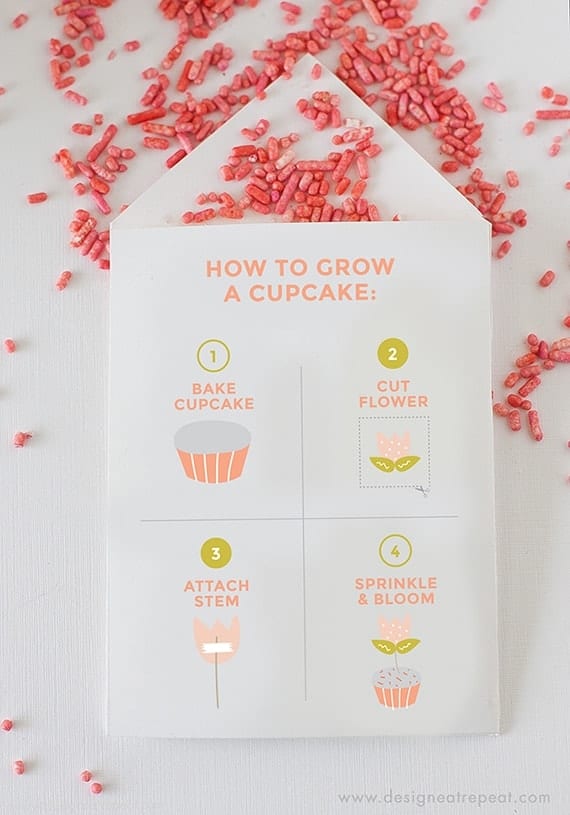 And although I recommend trying out Cyndy's red velvet recipe, you can also make this DIY with a boxed cake mix. Whatever floats your boat!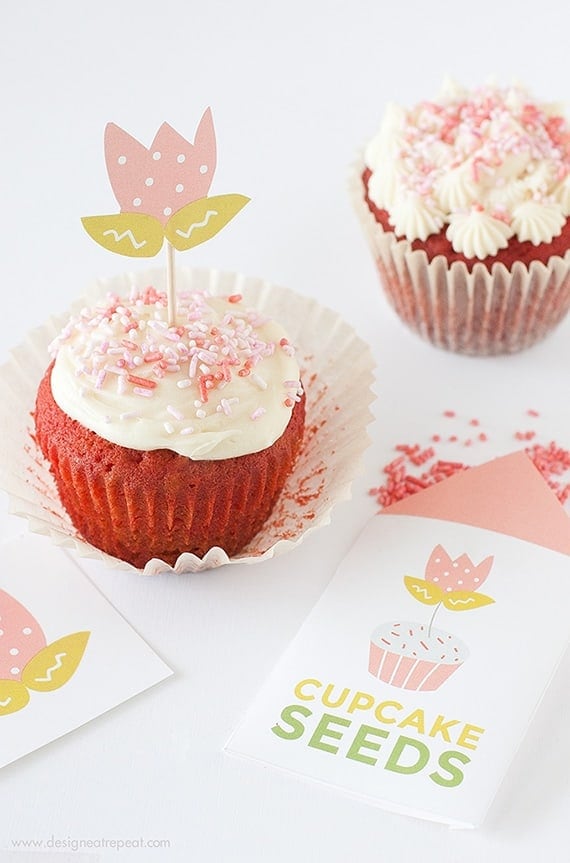 Jumbo Red Velvet Cupcakes with Cream Cheese Frosting
2 1/2 cups all-purpose flour (sifted)
1 teaspoon baking soda
1 teaspoon salt
1 1/2 cups sugar
1 cup buttermilk
1 3/4 cup vegetable oil
2 eggs
1 teaspoon vanilla
Red Food Coloring (I used Red Gel & you get a vibrant color without using tons of dye!)
1 teaspoon vinegar
Frosting:
8 oz. cream cheese, softened
1/2 cup butter, softened
1/2 pound powdered sugar
1 teaspoon vanilla
In a large bowl, sift flour, baking soda, and salt together. Set aside. In a separate bowl, cream together sugar, buttermilk, oil, and eggs on low speed for 30 seconds. Slowly add the flour mixture (on low speed) to the liquid mixture and mix until just incorporated. Next, add in vanilla, red food coloring, and vinegar and mix on medium speed until ingredients are well mixed (about 1 minute).
For the cupcake size shown above, I used a jumbo cupcake tin and liners. Line the cupcake pan with liners and add 4 tablespoons of batter to each one. Bake at 350 degrees for 26-30 minutes, or until a toothpick comes out clean. Let cool.
To frost, cream cream cheese and butter on medium speed. Once incorporated, slowly add in powdered sugar and continue to beat frosting on high speed until creamy. Add vanilla. If you would like your frosting to be thicker, add more powdered sugar. If you would like it to be thinner, add more milk. Generously frost cupcakes & enjoy! Yield: 10 Jumbo Cupcakes
I hope you all enjoyed this little Spring time project! Hop on over to my blog to download the printabales & if you're up for some springtime baking, find the Red Velvet cupcake recipe above!
Melissa