Hi friends!  As I promised on Monday, I'm back today to share the details and tutorial for our painted chandelier that I recently painted for my daughter's room revamp.  Before I jump into the tutorial, let me tell you a little more of what inspired us to attempt to tackle painting a chandelier.
You can see the finished room here.
As Bella and I started planning her room revamp, she told me she wanted a hot pink chandelier (I was not surprised).  So we started searching online and we came across this absolutely spectacular empire chandelier from Marjorie Skouras Designs: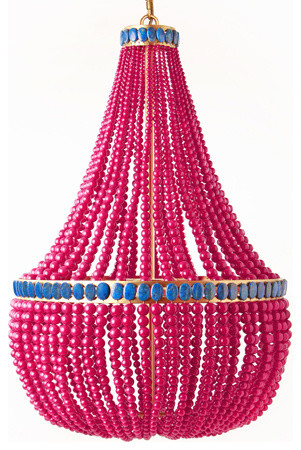 I have seen Marjorie's designs in the past and everything she does is simply out of this world and all of her pieces are made from semi-precious stones. I could hang out on her beautiful website for hours on end! One day I hope to have one of her pieces in my home!
Of course, Marjorie's piece is large and well, it's around $5,000.00, so it's about $4999.00 out of our price range for my girl's room.
Here is the turquoise version of the chandelier:
As much as I appreciate and absolutely love Marjorie's artistry, we had to pass on the chandy.  But, we were so inspired by the rich bold colors of the stones in Marjorie's pieces that we decided to think about painting a very inexpensive much smaller chandelier in Bella's hot pink and turquoise color combination.  I never dreamed I would find a similar "empire" chandelier but when I ran to Lowe's, I saw this perfect size chandy made by Style Selections for $79.00:
The bead part is made out of smooth shell mother of pearl-ish.  I immediately thought about the Velvet Finishes paint that I have been testing out the last few weeks because it has such a smooth highly pigmented matte finish.  My hope was that it would make the shells look like stones.  I also knew that I wouldn't need to prime and that the Velvet Finishes paint was thick enough that it wouldn't run down the beads like conventional paint or spray paint. I also knew that regular paint or spray paint would make the strands/shells look plastic instead of stone like.
So I bought the chandy, ran home and started painted my first coat of Velvet Finishes in the hot pink color "Glamorous":
Don't you just love my high-tech painting station?! Ha! It worked!
Let me just say, there was something like 30 strands of beads with hooks on the end and I'm not sure why but I painted each strand one by one and hung them in my little contraption to dry. Yep, took me hours…  By the third coat, I realized I could just line them up and paint them all at one time, which saved me so much time.  I did three very light coats and let them dry in between layers (about an hour).
Because I was painting a bold color on white, I knew it would take 2-3 coats to get that beautiful bright color.  I could have actually stopped at the second coat (I just used a wide acrylic brush) because at that point, the shells looked like almost translucent stones that varied in color.  I decided that I really wanted to get that bright solid pop of color just like our inspiration piece.
This is what the strands looked like after three coats of paint:
Next, I painted the shells around the top part of the fixture using two parts Velvet Finishes color "Boheme" and one part "Enchanting" to get that greenish turquoise color:
These painted shells really show just how beautiful that Velvet Finishes paint is.  The paint is matte but because of the wax additive in the paint, it made the shells look like buffed real turquoise!  Can you believe that finish and color? I was stunned.
I painted all of the metal part of the fixture using Testor's Enamel paints in gold:
For more details on using the Testor's enamels, you can check out Monday's post here.
Here is what the chandy looked like when we got it hung:
Then I added the strands after they were dry:
My girl and I did the crafty happy dance when we finally got it all up and saw just how pretty it turned out!
After doing this project, I thought about ways to cut corners and to save time. Obviously, if I had to do it over, I would have laid out all the strands immediately and painted them together all at one time.  I would have also spray painted the fixture with Rustoleum gold (as much as love the Testor's gold) including those shells around the frame that cannot be removed.  I would have then just painted over the gold upper shells.
Coincidently, my friend Amanda sent me a link to the exact same chandelier that Katie from the adorable blog Miss Dixie painted and she used a different paint and she also used wax:
Katie wanted her chandy to be a matte white and was so smart and taped off the shells around the frame before she painted.  Yea, I should have done that first.. Not sure why that didn't occur to me.  Katie also agreed that it would be faster to spray paint the piece but it was too cold where she lives.   Katie used a metallic gold paint made by Ace Hardware that I have never heard of that I want to play with as well.
I was also thinking that since the shells are organic, RIT Dye might work as well!  The Dye mix could be highly concentrated and I'm thinking those shells would just soak up the dye quick.  I really wanted that bold color like our inspirational piece so going the Velvet Finishes route I think was the only smart thing that I did! Ha!
There are all kinds of cool chandy's like this one at Lowe's with strands and there are even some flush mounts that would be so pretty in fun bold colors.
Thanks friends for hanging out with me today.  We have a lot of projects coming up from Bella's room that we can't wait to share with you! Stay tuned!
Cheers!
Cyndy