I have a fun and easy DIY home project that I'm going to be sharing with you on Wednesday but before I post the project, I wanted to dedicate a post to giving you some inspiration that relates to the project. I also want to show you in depth, how the chevron pattern is evolving and finding a more long-term place in design.  I wanted to give you a lot of inspirational eye candy.  So instead of having one big long post with both inspiration and a tutorial, I wanted to separate the two by making it easier on the both of us.
So let's jump right into the inspiration…
Of course, the chevron pattern is extremely popular right now and has been for quite awhile. I know you guys know it's been everywhere and just when we think maybe we're moving on to something new, the fun pattern has morphed and evolved in a fresh and new way into 2013 in both design and fashion:
As I look at all of the accessories and fabrics coming out for spring, it's obvious the chevron pattern isn't going anywhere soon and is in fact, making more of a long-term impact in design as it transitions.  I'm sure you guys have noticed this too!
One of the biggest ways that the pattern is evolving that I am seeing is going from the traditional two-colored pattern into bold multi-colored designs:
Not only are we seeing the chevron branch out from its traditional two-toned color but the pattern itself is changing and is evolving from the traditional blunt zig zag design:
I call this one the "zag", just a partial of the zig zag! I love this "zag" look that I have been seeing as well:
You too have probably noticed that the chevron design is no longer just for just fabrics, pillows and drapes and is being incorporated in a more long-term way in homes.  I love the multi-colored chevron walls.
walls:
Painted walls:
You can't get more of a long-term commitment to the pattern than tiles and flooring: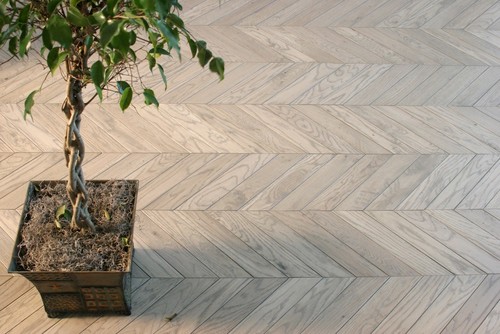 So long story short, it appears that the chevron pattern is not just a passing trend but is going to be around for quite awhile. I think we'll continue to see it evolve as well, which will be fun to see where we go next with it.  I also think the newly evolved chevron multi-colored patterns are an excellent way to incorporate color into a room or to help pull a space together.  I have just the DIY project to share with you on Wednesday that is so easy but can help with any space in your home.
I am so curious to hear your thoughts on the pattern and how it's evolving.  Do you love the bright and bold multi-colored or do you prefer the more muted colors.  I'm more of muted neutral girl myself but those bright and bold I am loving for my daughter's room!  So fun!
I will be back on Wednesday morning with our easy project.  If you happened to miss Friday Favorites; "Favorite Paint Color Trends for 2013", you can get to it by clicking on the image below:
Cheers!
Cyndy