I hope you guys had a great weekend!
I'm sorry that I have neglected the blog for a few weeks.  I have been focused on my artwork and trying to figure out how I can balance blogging and expanding my art business, which has been growing.  I want to do both but I'm discovering that it's pretty much impossible to give 100% to both. So, I'm trying to figure out a happy compromise and balance.
My goal with my art is to build up enough inventory to be able to make it available online in my shop within the next few months.  I'm getting close and can't wait to share more details on the blog shortly.  If you're curious, I share a lot of my "work in progress" shots on Instagram my here. For those of you not on Instagram, I pulled just a few of my favorite images that I posted on Instagram to show you what I have been up to:
 As you can see, my art passion is playing with color palettes.  I'll be sharing more details soon on the blog 🙂
So on to today's post!
For quite awhile now, I have been wanting figure out a way to incorporate my color palettes into mood boards of colors/fabric/finishes to help inspire you with different color/room possibilities.  I wanted to take my color palettes posts and give you room inspiration, great paint colors and pattern/finish combinations. Just to inspire you and show you some beautiful possibilities.
I get so many emails from readers looking for color help and room ideas that I thought that "Moody Monday" would be a great way to give you guys more than just my traditional color palettes. I'm not sure if i'll do it every Monday, or every other but I thought I would test it out today. I would love to know what you guys think about it and any other suggestions of what else I should include.
By the way, I'm not just pulling random colors that "match" the color boards, I'm specifically pulling transitional colors (mix of warm and cool tones) that have a great history of working well in a variety of lighting situations.  Transitional colors blend better with other colors that may be in your home.
So let's jump in.

I love the idea of Decorators White or Gray Clouds (both by Benjamin Moore) for possible wall colors in this palette.  Something in between those two colors that I did not include but is a fantastic wall color is Abalone by Benjamin Moore:
Abalone Benjamin Moore
Indigo Batik from Sherwin Williams and Englewood Cliffs would be beautiful paint colors for painting furniture, accents and rugs. Englewood Cliffs is a gorgeous wall color too if you're open to a darker gray wall color: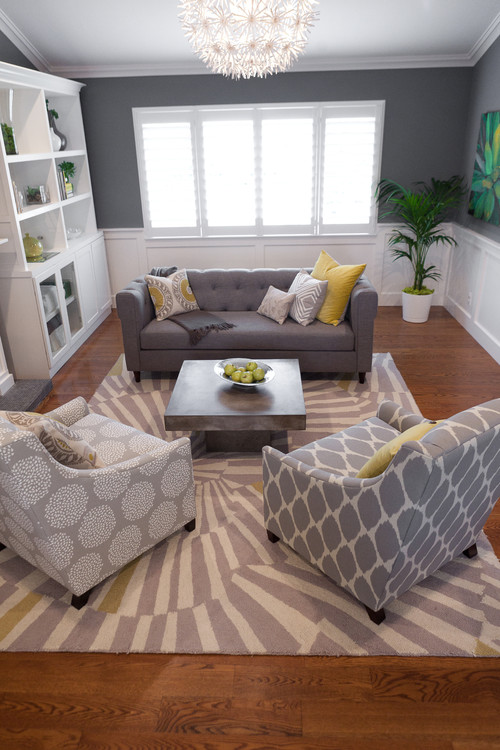 Englewood Cliffs Benjamin Moore
Here are the other sources in the mood board:
#1 Portfolio Brookhaven Coral Fabric– Online Fabric Store
#2   Robert Allen Leopard Navy Fabric-Online Fabric Store
#3 Premier Prints Jiri Navy– Online Fabric Store
#4    CORAL FLOWERS THROW PILLOW– Crane & Canopy
#5 Dash and Albert Coral/White Diamond Indoor Outdoor– Dash and Albert Online
#6 Dash and Albert Two Tone Navy and Taupe Indoor and Outdoor-Dash and Albert Online
#7  Graphite Dash and Albert Diamond Pattern Indoor/Outdoor Rug- Dash and Albert Online
By the way, if you happened to miss last week's contributor post from Claire Brody, she painted a dresser in the gorgeous Dishy Coral color that I included in today's palette:
I love the idea of a coral piece of furniture. You can check out Claire's tutorial here if you're interested in how she transformed this piece.
Hope you guys this new feature Moody Monday and if you have any suggestions of other things you would like me to include in the mood boards, I would love you to tell me in the comment section.
Thanks for stopping by friends!
Cheers!
Cyndy