I hope you guys have had a great weekend!
I have been wanting to share a coastal color palette for quite sometime now for Color Palette Monday but it has taken me awhile to find just the right colors. If you are looking for a pop of color in a room but want to still keep it neutral and safe, calm coastal colors are a great solution.  I think of them as muted bolds.
Here is this week's printable color palette:

(As a reminder, each color palette is printable.  It makes a huge difference to look at paint colors that have been printed out on paper, versus your computer monitor.  It helps even more if you print out the palettes on smooth white card stock.  My palettes should not be used to replace a paint color card, so if you see a color you like, please refer to  a paint color card).
Here is the link to this week's printable palette: Printable Color Palette Monday #9
I know that many of you prefer neutral colors in your home ( like I do). The thought of interjecting a bright bold color in a space makes many us a little nervous but I also like to find a color here and there that is different (but still safe).  Something to consider and a great place to look is at calm coastal colors like this:
Woodlawn Blue by Benjamin Moore
here is Woodlawn Blue painted in a dining room:
                                          Woodlawn Blue by Benjamin Moore
Summer Shower by Benjamin Moore has a lot of depth and adds that pop of subtle drama but again, calm and balanced undertone:
Summer Shower by Benjamin Moore
One of my favorite things to do is look through beach houses for color inspiration.  I also consider exterior paint colors as well because it might make a great powder room color or a cabinet color.  A great selection to look through beach houses and colors is by looking through Houzz.  Just look at these exterior colors, they would be beautiful in any space:
Misty by Sherwin Williams

Copen Blue by Sherwin Williams
Another beautiful calm coastal is Jamestown Blue by Benjamin Moore, which adds a great pop of color to this fantastic kitchen on the cabinets and wall: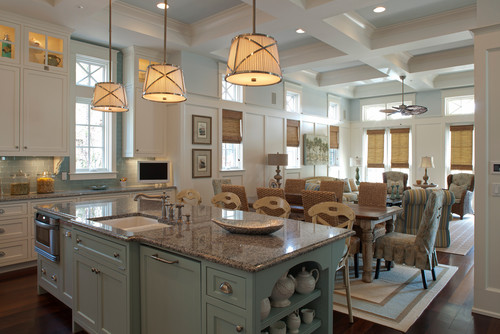 So if you're looking for pop of color but still want to keep it neutral safe, consider a calm coastal color. The best part of all, these colors also make us instantly think of the beach!
Thanks for hanging out with me today and if you missed last week's color palette, you can get to it by clicking the image below:

Cheers!
Cyndy