Gettysburg Gray Benjamin Moore
Galveston Gray Benjamin Moore 
Hi friends and Happy Memorial Day!
If you've been following along with me on my "Pick a Paint Color" Board on Pinterest, you have probably noticed that I pin a lot of different shades of gray cabinet paint colors. Over the last year, I have been in search of finding the perfect shade of gray for my kitchen cabinets and my new cabinets going up in my new office.  It's not an easy task!  Grays are one of the trickiest colors.
Grays are just as challenging as taupes and it really boils down completely to the lighting in the space.  What looks like the perfect true darker gray on a paint card can go more light flesh tan color in certain lighting.  This week, I have rounded up various shades of some of the most tried and true grays that I see used a lot for cabinets.  As I have mentioned before, when I see builders and designers using the same colors project after project, I feel confident that these colors must work well consistently.
Here is Color Palette Monday #8 printable color palette:

(As a reminder, each color palette is printable.  It makes a huge difference to look at paint colors that have been printed out on paper, versus your computer monitor.  It helps even more if you print out the palettes on smooth white card stock.  My palettes should not be used to replace a paint color card, so if you see a color you like, please refer to  a paint color card).
Here is the link to this week's printable palette:Color Palette Monday #8 Printable
Not all of the images of grays that I am featuring today made it to the color palette. I wanted to give you a lot of inspiration but could only add a few to the palette.
The most popular gray in this week's palette that I see used the most frequently is Gray Matters by Sherwin Williams:
Gray Matters Sherwin Williams
Gray Matters is a nice mid shade gray that is a great transitional color as well.  It has a hint of both warm and cool, so it's more versatile with flooring and adjacent spaces.  The color would be gorgeous painted on a bathroom vanity or beautiful in a kitchen.
Another gorgeous mid shade gray to consider is Whale Gray by Benjamin Moore:
Whale Gray Benjamin Moore
If you're looking for dark gray cabinet color, Kendall Charcoal by Benjamin Moore is a great one.  The center island below is painted in Kendall Charcoal: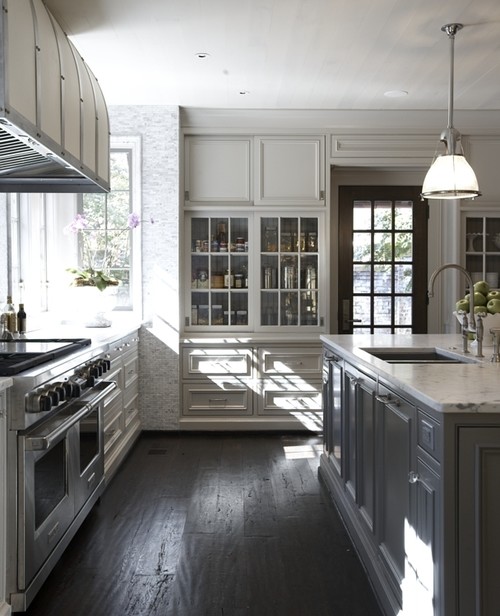 (Island) Kendall Charcoal Benjamin Moore
Here is a bathroom vanity also painted in Kendall Charcoal from one of my favorite Designer's, Michael Abrams:
Kendall Charcoal Benjamin Moore 
Another popular dark gray is Gray 2121 by Benjamin Moore:
If you're looking for a true darker gray, this is certainly a color to consider. You know it's a true gray when Benjamin Moore has simply named it "Gray"…
For a lighter gray that has a a touch of warmth in it, Mindful Gray by Sherwin Williams always looks beautiful either on cabinets or walls:
Mindful Gray Sherwin Williams 
For a fantastic gray that has a very slight blue hint to it is Boothbay Gray by Benjamin Moore:
Booth Bay Gray Benjamin Moore
If you're looking for a dark, rich and dramatic gray, Timberwolf by Benjamin Moore is absolutely stunning:
 Timberwolf Benjamin Moore
You really can't go wrong with any of these grays because they all seem to work in a lot of different lighting situations.  However, just to be safe, I recommend painting a large poster board with a sample size and see what it does throughout the day in your lighting.
Ok, so I have to know!  Which one of these grays is your favorite?  Gettysburg Gray I think though is still my favorites.  Although, my cabinets in my office are going to be Mindful Gray.
Enjoy the rest of your long weekend friends and thanks for hanging out with me today!  If you happened to have missed last week's Guest Color Palette Monday from Jenny at Evolution of Style, you can go to that post by clicking the image below:
Cheers!
Cyndy