For quite awhile now, I have wanted to do a post about a fantastic resource that Benjamin Moore offers on their website.  I have briefly mentioned it in the past but today, I wanted to show you how this resource can be a really good place to get started in our search for the perfect paint color.
With thousands of paint colors out there, its overwhelming to sift through and zone in on perfect colors. So maybe you know you want a gray or a tan color but what exact shade of gray or tan should you consider?  Well, Benjamin Moore has this awesome section on their website where they list all of their best selling paint colors and they even break it down by colors (i.e. blues, grays, neutrals, etc..).  This information is golden because if a certain paint color is a best seller out of thousands of colors, there must be something great about it, right? In the least, it's certainly a great starting point:
So before I jump into highlighting some of these best selling  colors, let's take a look at this week's printable color palette.  I pulled together a palette of some of my favorite's from the best sellers:

(As a reminder, each Color Palette Monday is a printable palette.  It makes a huge difference to look at paint colors that have been printed out on paper, versus your computer monitor.  It helps even more if you print out the palettes on smooth white card stock.  My palettes should not be used to replace a paint color card, so if you see a color you like, please go pick up a paint color card).
Here is the link to this week's printable palette: Color Palette Monday #11 Printable

One of my favorite best selling Benjamin Moore color's is Gray Owl.  Gray Owl has been made super popular thanks in big part to HGTV Host and Designer, Emily Henderson who shared last year that Gray Owl is hands down, her favorite go to gray:
Gray Owl Benjamin Moore
Emily says it's her favorite gray because "it's a very, very warm gray – meaning that its still a cool tone because its gray, but has more yellow in it than blue so it doesn't feel crazy blue".  I can see why Emily loves this great color and why it's one of Benjamin Moore's best selling grays.  Again, this information is so great to have and saves us from sifting through a 100 shades of gray!  If you want even more gray options, you can see a list Emily's favorite grays on her website here.
Another one of my favorites from the the Benjamin Moore best seller's list is Dragon's Breath.  Thanks to another Emily from a Well Dressed Home, who transformed her interior doors with this great color two years ago, this rich dark brown/black color became an overnight Pinterest star:
Because of Emily's painted door project, doors across the world have been painted in Dragon's Breath and I am certain that Emily's gorgeous doors helped put this color on the best selling list!  To see Emily's post for how she dramatically transformed her doors, you can see her post here.
Here is a look at Dragon's Breath painted on the trim in this great entry way:
I was not surprised in the least when I saw Grant Beige pop up as one of the best selling neutrals.  It's by far one of the most popular staple colors used by interior designers and builders and next to Revere Pewter, it's probably one of the uploaded paint colors found on Houzz:
Grant Beige Benjamin Moore
Wall color is Grant Beige Benjamin Moore
Grant Beige is great neutral tan color that works well in a variety of spaces and lighting conditions. This information is good to know because this particular color/paint card is a great starting point and it helps us sift through all of the neutral paint colors out there and zone in on a color that we know has a great history.
I am always excited to look closer at colors from the best seller's that I have never seen before, which is rare for me with my little paint obsession.   One of my new favorites that I found on the list is called Santorini Blue:

Santorini Blue Benjamin Moore via AND Kitchen and Design Studio
I also recently found another great blue called Phillipsburg Blue by seeing it pop up on the best seller list:
Phillipsburg Blue Benjamin Moore
There was one color that I was shocked was not listed as a best seller but I feel certain it is, so I'm included it in this week's palette and that is Nimbus Gray.  Nimbus Gray is designer Candace Olson's favorite/most used paint color and it's probably one of the most popular paint colors pinned on Pinterest:
Nimbus Gray Benjamin Moore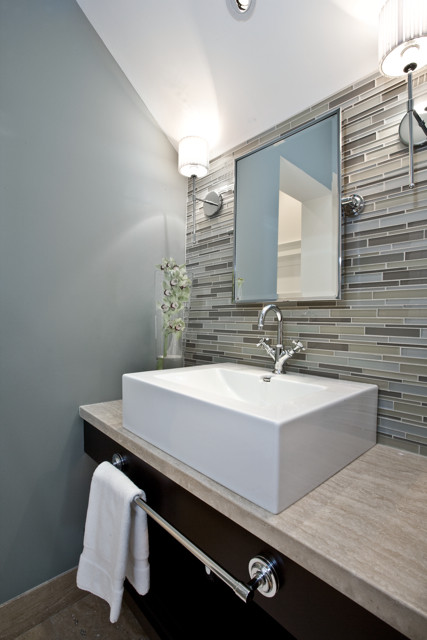 Nimbus Gray Benjamin Moore
By the way, you can see the rest of Candace Olson's Benjamin Moore paint color picks here.  I love all of them!
Last but not least, the hardest color out there to pick are whites and off whites. Knowing what the best sellers are really takes the guess work out of finding great whites.  Benjamin Moore notes the color Dove Wing as a popular white/off white:
What is really interesting in this bathroom above is that Dove White was used both on the wall and trim but the wall paint was done in matte and the trim was done in a high gloss and it is a stunning look!  Fantastic idea!
One of my favorite things of all about the Benjamin Moore best selling section is that they have broken it down by each color, which helps us even more!  So the next time you're looking for a color, this is a great place to begin your search!  By the way, Benjamin Moore updates this section frequently (at least once a month), so I always keep my eye on it for new colors that show up.
Thanks for hanging out with me today for this week's Color Palette Monday.  If you happened to miss last week's palette, which I shared some tips and tricks for choosing  exterior trim paint colors, you can get to that palette by clicking the image below:
Cheers!
Cyndy