I have received so many emails and questions asking for suggestions of kitchen cabinet paint colors that I thought I would go ahead today and share some of my favorite kitchen cabinet colors. ** I just updated this post with new colors on 2/8/15 with the most updated popular paint colors.  You can get to that post by clicking the image directly below:
I think kitchen cabinets are the toughest paint color decision that we'll make (it's agonizing really).  I hope these images and colors I'm sharing with you today will get you a little closer to finding that perfect  color.
I have narrowed down my favorites to nine colors that have a lot of depth, are fairly safe and are also versatile.  I am steering clear of the whites because shades of white really boil down to the undertone of your adjacent wall color, counter tops and flooring. Also, if you want to see more cabinet colors, be sure and look through my "Pick a Paint Color" board on Pinterest here, where I have almost 200 images of paint colors with the name and brand.
So let's jump right in;
1) Gettysburg Gray by Benjamin Moore
Gettysburg Gray by Benjamin Moore is by far my favorite kitchen cabinet color right now.  In fact, this is probably what I will be going with in the next few months when I repaint my cabinets:
This gray color has a slight green undertone and this is a beautiful color with a lot of depth and it's also versatile.  As I look at the paint card in my kitchen, it is possible that it could be too dark for those who do not have a lot of natural light in the kitchen.  If it's too dark for you, consider going up a shade (on the same card) to either Sandy Hook Gray or Rockport Gray, which are lighter versions of this gorgeous color.
2) Iron Mountain by Benjamin Moore
Iron Mountain by Benjamin Moore is one of those colors that every time I see an image of it in a different space, the color looks different.  I call colors like this chameleon colors because they change so much depending on the amount and type of light and the paint finish that is used.
Here in this image below, the color almost looks like a dark brown with a very slight hint of gray (keep in mind that this kitchen has a lot of natural light from overhead):
This image below, which appears to have more artificial light than natural, takes on a more lighter gray color than dark brown. The island is Iron Mountain and the cabinet color as well, which is Stone Harbor by Benjamin Moore: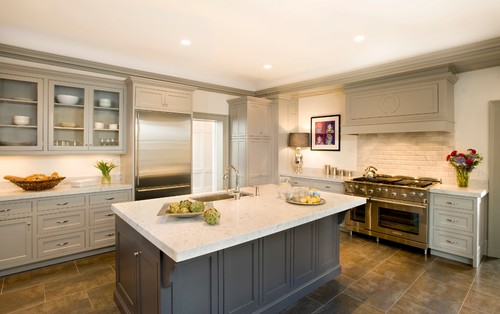 In my kitchen, the paint card looks like a neutral espresso dark brown.  I have a lot of natural light.  It's really a rich and gorgeous color and if I had lighter colored counters, I would probably go with this color. I have black granite counter tops, so I am very limited.
3) Ashwood Moss by Benjamin Moore
Ashwood Moss by Benjamin Moore is a new color for me to come across but I have to say, it was love at first sight.  I am not able to find any images of this color on kitchen cabinets but I think these two images below from For the Love of a House will give you a pretty good feel for the color:
I love this Ashwood Moss because it's not too dark and it's not too light, just in the middle.  I don't know with certainty but I suspect this is another chameleon color that will really look different in every space.  I could see it taking on a blue hue or a green depending on the lighting and surrounding colors. It's a very rich gray with a lot as depth as well.
By the way, if you get a moment, you should check out Joan's beautiful blog For the Love of a House, where she shares her journey of transforming an antique farmhouse into her home.  This piece is just one of many transformation that Joan has shared.
4) Fieldstone by Benajmin Moore
I have been in love with Benjamin Moore's Fieldstone for several years now ever since the fabulous Joni from Cote de Texas showed us Sally Wheat's kitchen:
Fieldstone again with gorgeous brass hardware designer Kristin Prickett from the beautiful blog bestfromournest:


Fieldstone is a light gray color that just comes to life in kitchen.  I love it because it is safe but has a lot of depth.  It works well with either silver or brass hardware and it is such a versatile color and could work in a lot different palettes.
5) Dark Granite by Behr
Dark Granite by Behr paints is another color that I just love and you can see in the image below that it really packs a punch in the kitchen with it's depth:
Dark Granite is really a the truest dark gray that I have seen.  As I look at the paint card in my kitchen, I cannot see an undertone at all and its just a true dark gray about two shades up from black.  Colors like this-with very little undertone, work well by picking up the surrounding tones.  Notice how the flooring, lighting and the counter tops bring out a warm tone in this color.  It's so interesting because there is no warmth in this color at all.  The color is reflecting the tones of the room.
If you are concerned about undertones and are looking for a darker color, Dark Granite is a great place to start!
6) Urbane Bronze by Sherwin Williams
I wanted to throw a great kitchen accent color into this post and Urbane Bronze by Sherwin Williams is the perfect color to use to add a small pop.  I'm not sure about painting all of the cabinets in this color but a center island, the back of open shelving or even a pop out cabinet, this color is perfect for adding a little drama.
By the way, Urbane Bronze is also a great door color as well:
7) Raccoon Hollow by Benjamin Moore
Raccoon Hollow is a color that I have only recently come across and I just love it.  Again, it's a safe neutral grayish-slight yellow/brown undertone with a lot of depth as well:
You can get a better feel of this color and it's yellow/brown undertone by seeing it painted on a wall here:
8) Rockport Gray by Benjamin Moore
Rockport Gray has been around awhile as well and it's one of those tried and true colors that works well on both the wall and on cabinets.  Rockport Gray is the lighter shade on the same card as my favorite Gettysburg Gray.  Again, this color has a slight green undertone:
The lowers and the island are painted in Rockport Gray:
9) Downpipe by Farrow & Ball
Downpipe by Farrow & Ball is another one of my favorites because again, it's a gorgeous rich, darker color with a lot of depth:
I don't have a Farrow & Ball fan deck to tell you more about the color/undertone (I really need to get one), but it looks to me that this color has an obvious blue undertone and I think it's a true slate color.  I especially love this color mixed with brass hardware.
Well, did you see a color that you like? I would love to know which of these kitchen cabinet colors jumps out at you the most?  I know one thing, it's going to be really hard for me to make my final decision because there are just so many beautiful colors out there.
If you need a little help in narrowing down a paint color and choosing a color with the right undertone for your space, you can check out my post Tips and Tricks for Choosing the Perfect Paint Color for a little help. I also shared more paint color images in that post as well if you want to see more colors.
Thanks for hanging out with me today for Friday Favorites and I hope you guys have a wonderful weekend!
Cheers!
Cyndy